FTZs to lead the way of China's future economy
2016-2-22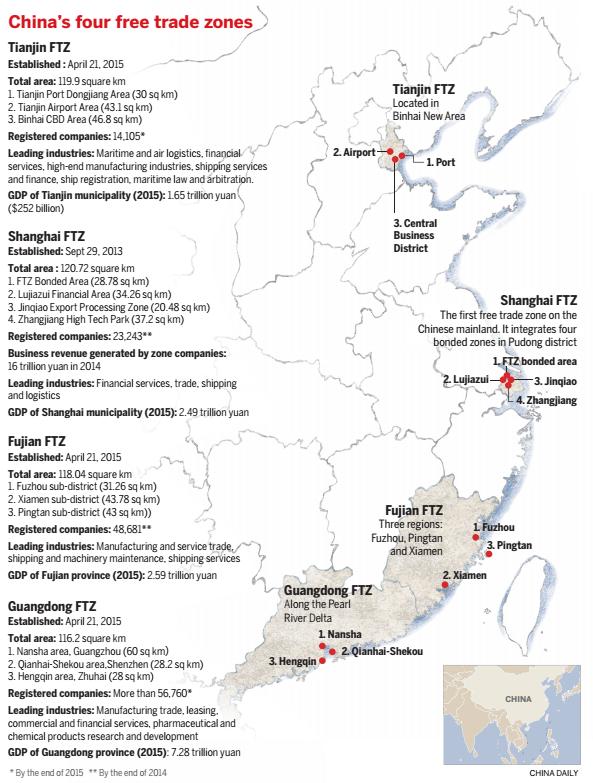 Local trade areas to feature prominently in next stage of the country's growth
  Every stage of China's development can be likened to a sporting event played by localgovernments.
  Since the start of the 1990s, the areas in which local authorities have competed includeforeign direct investment, new airports with direct flights to popular overseas destinations,sprawling urban plans featuring exotic public buildings or office buildings, and high-speed railservices.
  But what next, with the economy undergoing a difficult transition and almost every industryseeing a slowdown in growth?
  News emerging from provincial-level policymaking meetings held before the annual session ofthe National People's Congress in March is that setting up local free trade zones will mark thenext stage of the nation's development.
  Local governments will embark on a new round of competition to obtain central governmentapproval for such zones and to show who can run a local FTZ most successfully.
  Commerce officials say that the competition will probably continue throughout the nation's13th Five-Year Plan (2016-20).
  Also called tariff-free zones, FTZs are areas within which goods can be imported, processedand exported without going through customs inspections. Foreign investors can set upfacilities in industries that are restricted elsewhere in the country.
  FTZs are designed to provide greater access and convenience for foreign companies toexpand in China and for Chinese companies to move money abroad — in diverse servicesand financial operations, as well as in manufacturing.